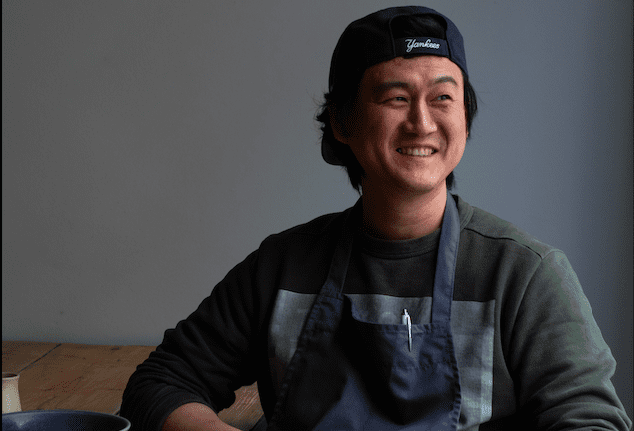 At the pass with… Joo Won
At the pass with… Joo Won.
It's been a blast working alongside our pal Joo Won, we've made thousands of dumplings, fried heaps of chicken and learned about some amazing flavours and recipes from South Korea. (Hello fermented plum sauce, where have you been all our lives?) After a whopping fifteen years at Galvin at Windows, Joo's setting out on his own to set up shop in east London, where he hopes to open a humble little eatery showcasing flavours from his home, South Korea. Along with his signature fried chicken, there will be lovely natural wine for you to enjoy as well. Until his restaurant project Cálong opens, his menu here at Carousel serves as a preview. And what a hell of a preview it's been, we'll be first in line when it opens. Before Joo heads off however, we've got a few burning questions to ask him…
Favourite London restaurant?
Galvin at Windows, where I worked for the last fifteen years!
Best place for Korean food?
Eventually it will be my restaurant, Cálong, but until it opens, there is the restaurant Jumak39 that's very good.
Dumplings or fried chicken?
Dumplings!
Red, white or rose?
I'm a big red wine person.
A song you've got on repeat right now.
Tom Misch, Beat Tape 2
Chef who's inspired you the most?
Alain Ducasse, André Garrett as well.
Last movie you watched?
Parasite.
Chef you'd like to see at Carousel?
Mingoo Kang, who has the two Michelin star restaurant, Mingles in Seoul, South Korea.
Dish you miss from back home?
Noodles, cold hand-cut noodles, it's called Kalguksu. They're very nice, can be vegetarian, seafood. I miss it a lot.
Any advice to chefs starting out in the business?
Keep your head down those first few years, work on the basics!
You can keep up with what Joo's up to via his instagram, or head to the website for his upcoming restaurant project, Cálong.