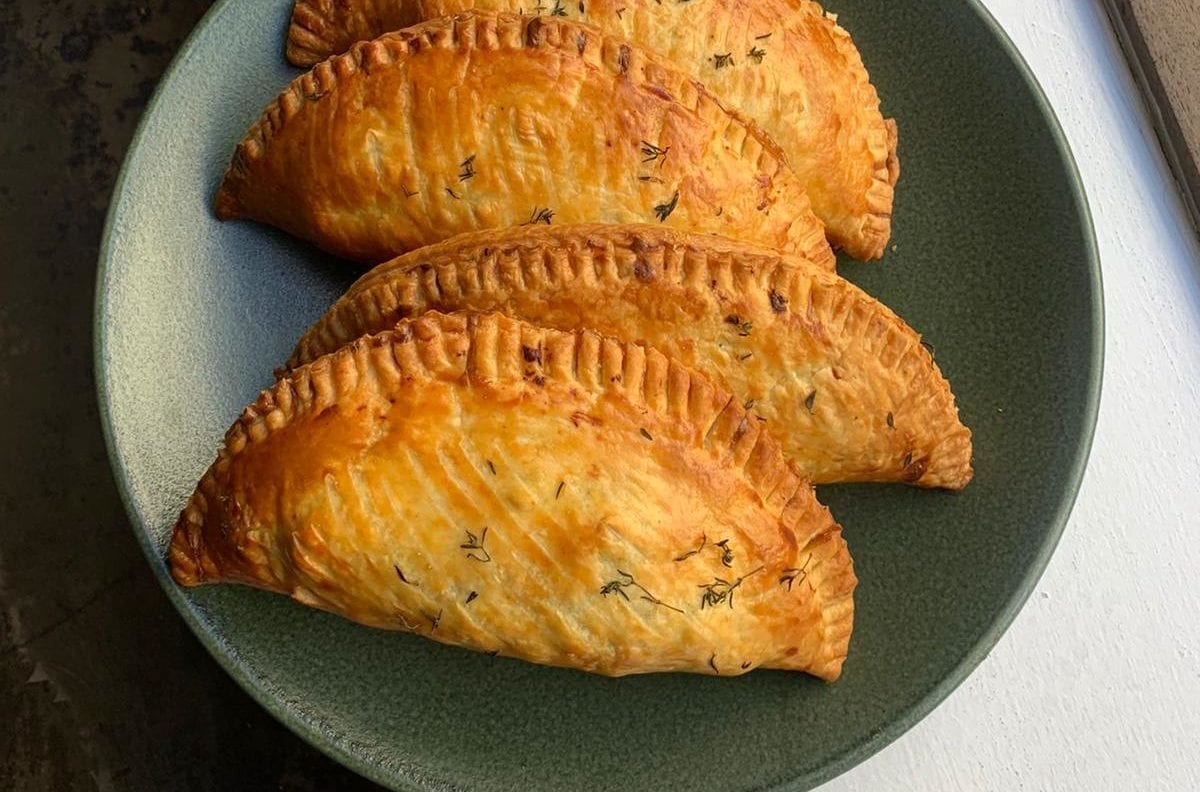 Pasty with Black Walnut Ketchup
Staff Food: Pasty w/ Black Walnut Ketchup
It's hard to ever get a case of the 'Monday blues' when working at Carousel, especially when our very own Mark and Brian have cooked up a damn tasty pasty for staff brunch (yes we ate more than one, and nope, we don't regret it). We're never ones to waste when there's an opportunity to make something out of nothing, our staff brunch usually has a an ingredient or two from last week's chef. For us lucky folks that morning, this meant chomping down on the leftovers of Suhyung Lee's menu…
Like our restaurant, the staff food changes cuisine, ingredients and cooking methods weekly. As we gulped down the warm, doughy pockets of braised bbq pork collar, roasted root vegetables, and fluffy potatoes, Mark chatted to us about the history of the pasty and how the crust along the curved edge worked as a 'handle' of sorts for miners wanting to keep their dirty mitts off their food. The proverbial icing on the cake was the Black Walnut Ketchup that they'd made (think the superior man's Brown Sauce) to pair along with these pasties. Be warned these pasties sinfully delicious and will have you going back for 2nd and 3rds…
Staff Food:


Pasty w/ Black Walnut Ketchup
Pasty Ingredients
(makes 4 pasties)
350g Puff Pastry
350g Braised BBQ Pork Collar, cubed into bitesize pieces
350g Boiled Potatoes, peeled and cubed into bitesize pieces
150g Roasted Root Vegetables
ie 50g each of carrots, parsnips, swede cubed into bitesize pieces
175g Sautéed Onion, chopped
salt & pepper to taste
1 egg, beaten with a dash of salt mixed in for glazing the pasties
Pasty Instructions
Preheat the oven to 170°C(150°C fan)
Once you've cubed the pork, potatoes, root vegetables and onion combine in a bowl, adding salt and pepper to taste.
Lightly grease tray or put down baking paper.
Roll puff pastry into a ball and then divide into four equal pieces. Using a rolling pin, roll each ball into a circle, roughly 25cm wide.
Next, spoon a quarter of the pasty filling onto half of the circle of dough. Put a small knob of butter onto of the filling.
Gently fold the pastry over the filling, joining the edges, pushing with your fingers, to seal. You can then crimp the edges with a fork to ensure it stays closed.
Place the pasties onto your baking sheet and brush the top of each with the egg and salt mixture. Make sure to place the baking sheet in the middle of the oven. Bake for 25 minutes or until they are golden brown.
Black Walnut Ketchup Ingredients
200g Pickled Walnuts
1-2tsp Brine from the jar of Pickled Walnuts
2tsp Soy Sauce
2 tsp Sugar
Black Walnut Ketchup Instructions
Separate 200g of pickled walnuts from the brine (saving the brine for later).
Whizz this up in a small blender, until smooth.
Add 2 tsp of soy sauce and combine well, followed by the 2 tsp of sugar.
Lastly add the brine to taste, back into the sauce.