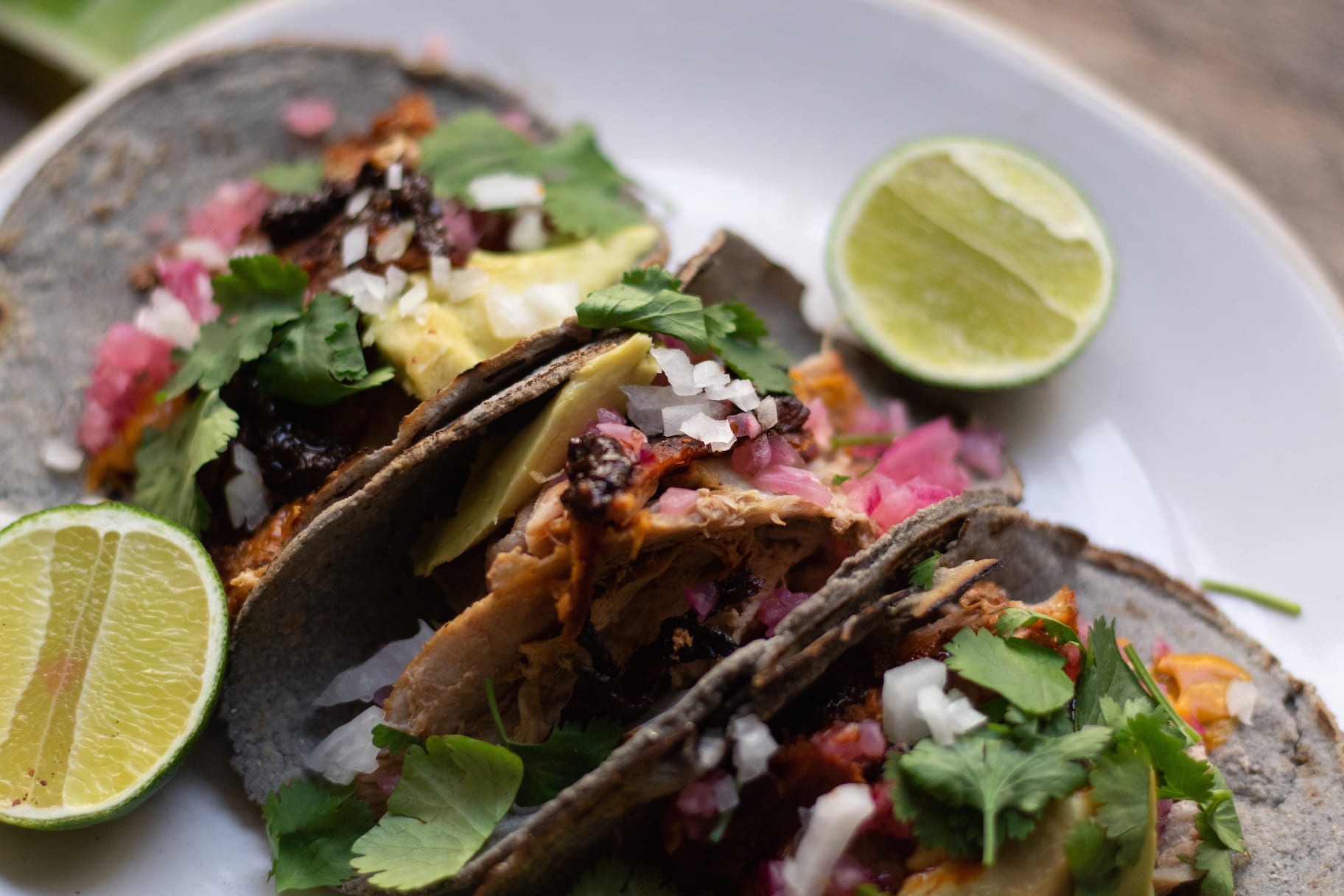 Baja-Style Fish Tacos
Baja-Style Fish Tacos
Golden, crispy and tasty as all hell, these tacos from Ollie Templeton are simple to make and absolutely *banging*
[MAKES 8 TACOS]
INGREDIENTS
fried fish: 300g White Fish (cod, hake, pollock etc) · 150g Plain Flour · 1/2 tsp Baking Powder · 200g Beer / Fizzy Water · 1tsp Paprika · 500ml Neutral Oil (for frying) mayo: 100g Mayonnaise · 2 Scotch Bonnet Chillies · 1 clove Garlic tortillas: 200g Plain Flour · 50g Butter · 20g Oil · 100-120g Water · pinch of Salt slaw: 1/4 Red Cabbage · 100g Gherkin · 1 Lime · pinch of Salt garnish: 1 bunch Coriander · 1 Avocado · Lime wedges
METHOD
Make the flour tortillas by mixing all the ingredients into a smooth dough. Once combined, knead for 2-3 minutes then let it rest for up to 30 minutes before rolling or pressing using a tortilla press.
Make the batter by adding cold beer or fizzy water to the flour, paprika and baking powder. A few lumps in the batter is a good thing, as it will make it nice and crispy.
Season the fish with salt and a pinch of paprika, then dust in flour really lightly when ready to fry.
If you're making the mayo from scratch follow your favourite recipe. If not, shop bought will definitely do. In a food processor or pestle and mortar make a paste from the garlic and scotch bonnet and add in the mayonnaise. The heat here is up to you!
For the slaw, shred a quarter red cabbage and season with salt and lime. Make matchsticks with the gherkins and mix it all together.
When ready to eat, get a skillet or flat frying pan hot and roll out the tortillas really thin (if you have a tortilla press use this). Start cooking the tortillas first and pilling up in a clean tea towel so they stay hot.
Heat the oil to around 180C. Test the temperature by frying some batter (it should make a good frying sound and go crispy). When you're ready, dust your fish fillets and then batter them and fry. Do around 4 pieces at a time. Fry them until crispy, drain on a towel and season with salt. Repeat this until all the fish is cooked.
Serve with avocado, lime and coriander.
Don't forget to

tag us on Instagram with

photos of your efforts… You can finds us @Carousel_LDN.